Advertise on SovInformBureau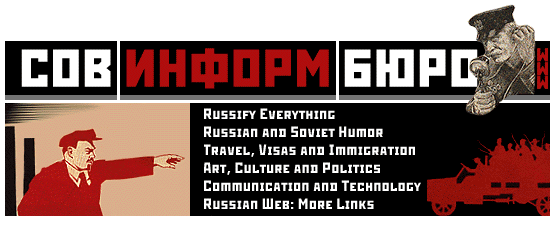 Welcome to Vadim Maslov's SovInformBureau -- an ultimate source of information on things Cyrillic, Russian, and Soviet.
Table Of Contents
Latest and greatest SovInformBureau news.
When and how S.I.B. was started.
Detailed intructions on How to Russify Your Computer.
Russian and Soviet humor at its best.
Visa Information: how to get Russian and American visas.
Travelling to Russia and around the world.
Short papers about Internet. In Russian.
Links to sites related to hightech and communications stuff.
Links to sites that relate to Russian Art, Culture, Politics.
Even more links to Russia-related websites.
Disclaimer
Use this information and software from this site at your own risk. Information found at this site is not guaranteed to be true and software downloaded from here is not guaranteed to work.

Specifically, we disclaim any responsibility for content of paid advertising that appears on SovInformBureau pages. We do not verify claims made by our advertisers and we do not endorse them in any way.
Credits
The SovInformBureau site was designed and built by Vadim Maslov.
The front door welcome picture that feautures Lenin and a guy with a mike is a masterpiece by Tema Lebedev.